Westcott Street Cultural Fair
Volunteers Urgently Needed!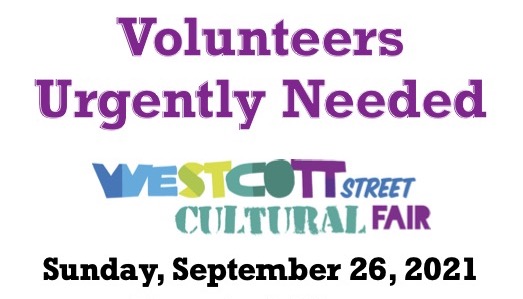 Volunteers are needed to assist in staffing the fair entrance barricades. Barricade staffers offer simple guidance, use a counter to measure attendance, and manage access. It's an easy way to make an essential contribution to the Fair's success!
Contact coordinator@westcottstreetfair.org if you have questions or want details on all of our volunteer options. We need you!
Ways to Volunteer
Every year, the Fair depends on volunteers to help with communications, marketing, coordination, fair-day activities and more. No experience or prior involvement is necessary! We need and appreciate your help. Please email us if you're interested in volunteering and want more info.
If you have questions, contact coordinator@westcottstreetfair.org for details and options!
Thanks for helping us to make this the best Westcott Fair yet!