26th Annual Westcott Street Fair
Sunday, September 17, 2017
Noon - 6:30 PM
(Streets reopen at 7:30 PM)

Westcott St. between Concord St. and Dell St.
(and side streets)
Become a Sponsor
Our Good Neighbor, Friend of the Fair, Patron and Stage sponsors are our most important supporters!
Performer applications closed as of May 31
About the Fair
The Westcott Street Cultural Fair is an annual, one-day celebration of the diversity and uniqueness of the Westcott neighborhood through its culture, visual and performing arts, food, service organizations, and activities geared to families and university students returning to the neighborhood. The fair attracts more than 8,000 people annually to the Westcott Business District in mid-September for a day filled with great sounds, sights, tastes and more.
Why does the Westcott Street Cultural Fair happen?
In its 26th year, the Westcott Street Cultural Fair has become a tradition in the neighborhood. Since 1992, the fair makes a statement of neighborhood pride. It is an opportunity for Westcott to invite the Central New York community to visit us and see that it is a great place to live, work, shop and play.
Who supports the WSCF?
The Westcott Street Cultural Fair welcomes donations from the community. In 2016, more than 40 business, governmental, organizational and institutional groups provided cash and in-kind donations to the Westcott Fair. Donors are recognized on our web site, on signage and in our program guide at the fair. Major donors are listed on all printed materials. Donations for the 2017 Westcott Fair are welcome at this time.
Thanks to our Major Sponsors
Support the Fair!
Get Involved!
You can joing the Westcott Fair team in a number of ways:
Provide a cash or in-kind contribution directly to the Westcott Fair
Volunteer the day of the fair (variety of shifts available)

We especially need a volunteer from 8 AM to 11 to coordinate Nottingham High School students with fair set up!
Contact us to learn more:
315-313-5447 (voice mail)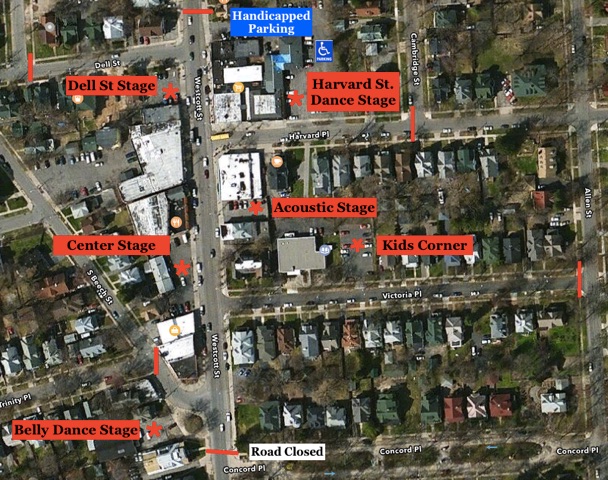 Last Year's Fair ...